Welcome to Abiding Presence Lutheran Church!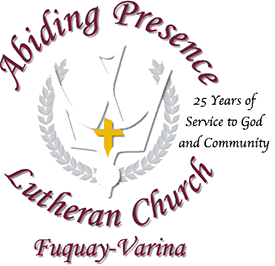 Sunday Worship Schedule
9:30am – Worship Service
10:45am – Sunday School
All In – A 6 Week Preaching Series
A preaching series, offered at Abiding Presence, to challenge you to live like a person who has given your life to Christ Jesus (heart, soul, mind and strength). Be challenged to live your life accepting the truth that Christ Jesus first gave his life for you…for us…for the whole world! If, through baptism, we claim to be Christian (followers of Jesus), then we must live life guided by a spirited desire to express by what we say and what we do that we are, indeed, All In.
April 8 – Sermon: God is All In For You! Are you All In For God?
We will map out God's intention as demonstrated through the resurrection that God is All In for us. In response, God's people (the church) are called to be All In for God.
April 15 – Sermon: All In Means Obedience!
We will speak to the nature of the Law, the Prophets and the Psalms as it relates to life in Christ Jesus. Is it ancient history? Or, is it relevant as a way-of-living our All In lives right now?
April 22 – Sermon: All In Means Following the Good Shepherd?
We will point out that we will live life more meaningfully when we follow Jesus more willingly. So much of life leads us astray, like sheep we risk getting lost in the wilderness of money, power, prestige, recreation, hatred, doubt, etc. But, the Good Shepherd is always calling the sheep back into the fold and to salvation.
April 29 – Sermon: All In Means Listening For the Spirit!
We will be challenged to condition our hearts and minds to listen for the Spirit of God who longs to communicate with us. The Word we encounter from outside ourselves (Bible, study, counsel) and the Word we sense from within (conscience, Spirit, faith) is the voice we must be open to listen for, and hear. God's Spirit is calling to us for our own good, and for the good of the world around us.
May 6 – Sermon: All In Means Trusting Love Lives!
We will be urged to own up to the nature of what we are being called to be, "lovers". It's the Spirit of God's love poured out on us in baptism that empowers us to live every moment expecting God to be at work in, with and through us, loving all creation. It's the Spirit of God's love which then enables us to seek to love in all of life's circumstances.
May 13 – Sermon: All In Means Living As One Who is Chosen!
We will examine the belief that followers of Jesus don't happen by accident. We are chosen! It's intentional that God in Christ Jesus reaches out and claims us in baptism to be God's children. When we are chosen by God to be who and what we are, being All In means we seek to view the world from the perspective of God's love and desire that all creation shall come to know God and be saved.
As Lutherans, we gather to participate in worship, to return thanks and praise for all that God has given us. In a typical Sunday morning worship, we participate by praying, singing, reading/listening to the Bible, speaking, confessing our sins, receiving forgiveness, sharing God's peace, giving an offering, receiving Holy Communion.