Welcome to Abiding Presence Lutheran Church!
Join our live-streamed worships on Sundays at 9:30 AM EST!
Abiding Presence is looking for a new Youth Minister!

Learn more about the new position here
---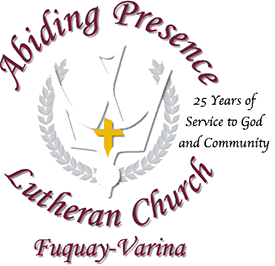 Sunday Worship Schedule
9:30am – Worship Service
10:45am – Sunday School (Sept – May)
As Lutherans, we gather to participate in worship, to return thanks and praise for all that God has given us. In a typical Sunday morning worship, we participate by praying, singing, reading/listening to the Bible, speaking, confessing our sins, receiving forgiveness, sharing God's peace, giving an offering, receiving Holy Communion.