Welcome to Abiding Presence Lutheran Church!
Join our live-streamed worships on Sundays at 9:30 AM EST!
Holy Week Worship Schedule
Maundy Thursday – April 14, 7:00 pm
Good Friday – April 15, 7:00 pm
Easter Sunday – April 17, 9:30 am – An Easter Egg hunt for children aged 2 through 5th grade will follow the worship service. Make sure you bring your favorite Easter basket!
Lifting of mask mandates – Effective March 6th, 2022
Following the recent lifting of masking mandates in Wake County and the updated guidance from the Centers for Disease Control and Prevention, the congregation council of Abiding Presence is lifting the requirement that masks be worn by everyone in worship. Effective March 6th, face masks in worship will be a matter of personal choice. Please read the full details of the updated policy here.
---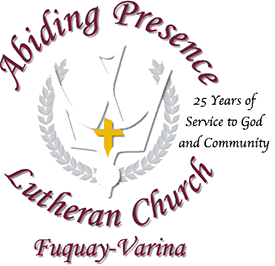 Sunday Worship Schedule
9:30am – Worship Service
10:45am – Sunday School (Sept – May)
As Lutherans, we gather to participate in worship, to return thanks and praise for all that God has given us. In a typical Sunday morning worship, we participate by praying, singing, reading/listening to the Bible, speaking, confessing our sins, receiving forgiveness, sharing God's peace, giving an offering, receiving Holy Communion.