Welcome to Abiding Presence Lutheran Church!
 Holy Week Worship Schedule
Palm Sunday – Sunday, March 25 – 9:30 am
Beginning at 9:30 a.m. at the Columbarium, we will reenact the sacred entry of Christ Jesus entering into Jerusalem! Waving palm branches children and young-of-heart will play on percussion instruments as we make our journey in procession from the Columbarium to the sanctuary, a triumphant celebration of Jesus, Savior and King!!! Hosannah in the Highest!!!
Maundy Thursday – March 29 – 7:00 pm
At 7:00 p.m., our worshipping community will gather in the sanctuary for the sacred rite of remembering the night prior to Jesus' crucifixion. We will remember his Last Supper with his disciples. We will recall his desperate prayer in the Garden of Gethsemane (Pastor will read the narrative poem he wrote, "Memories of an Owl", to commemorate this occasion), and experience the Stripping of the Chancel, a meaningful and emotional provocative remembrance of Christ's complete surrender.
Good Friday – March 30 – 7:00 pm
Beginning at 7:00 pm, our worshipping community will gather in the sanctuary for the annual reading of the Passion According to John. Coordinated with the Passion reading is the extinguishing of the candles leading us into the darkness of the hour of crucifixion. This has been an emotionally spiritual ritual for Followers of Jesus for generations, reminding us of our adoration of the cross, the symbol of our salvation.
Easter Sunday – April 1- 8:30 & 11:00 am
Worship will take place on two occasion this Easter Sunday. 8:30 am will feature our Praise Band for a contemporary celebration of the Resurrection of Our Lord. Then, at 11:00 am we will feature our traditional style worship assisted by organ, trumpet, flugelhorn, flute, violin, acoustic guitar and choir. The children will be invited to parade in the waving of the Alleluia banners, in a Resurrection conga line!!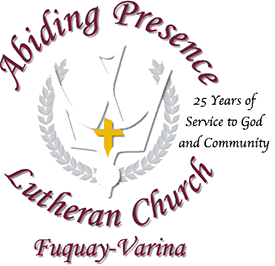 Sunday Worship Schedule
9:30am – Worship Service
10:45am – Sunday School
As Lutherans, we gather to participate in worship, to return thanks and praise for all that God has given us. In a typical Sunday morning worship, we participate by praying, singing, reading/listening to the Bible, speaking, confessing our sins, receiving forgiveness, sharing God's peace, giving an offering, receiving Holy Communion.